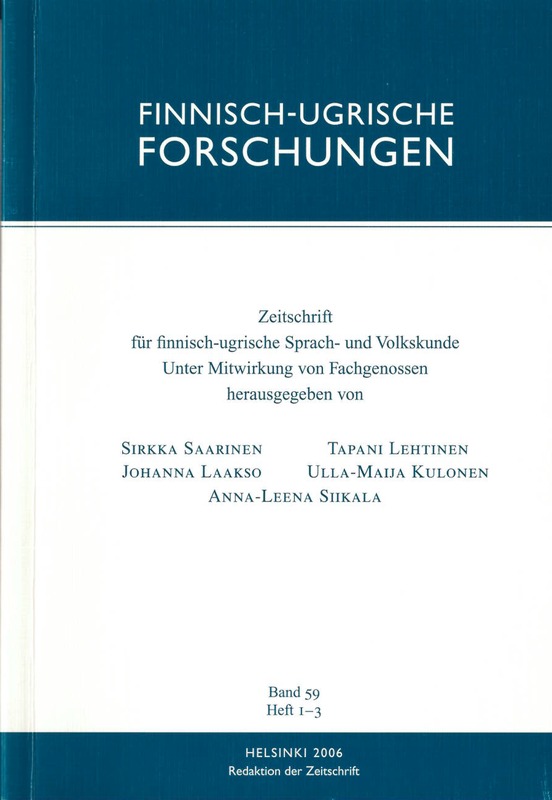 Nimeke
Finnisch-Ugrische Forschungen 59
Kuvaus
Bd. 59, Heft 1–3
(2006). ISBN-10 952-5150-94-0, ISBN-13 978-952-5150-94-0.
Inhalt (pdf)
.
FUF 59: Abstracts
Aikio, Ante
New and old Samoyed etymologies (Part 2).
Widmer, Anna
Ungarisch
nagy
'groß' und
nap
'Sonne, Tag'.
Bartens, Raija
Zu den Positionsverben in den finnisch-ugrischen Sprachen.
Havas, Ferenc
Die Ergativität und die uralischen Sprachen.
* Besprechungen: Grünthal, Riho
The Uralic languages in a South European context (Les langues ouraliennes aujourd'hui. Approche linguistique et cognitive. The Uralic languages today. A linguistic and cognitive approach. Sous la direction de M. M. Jocelyne Fernandez-Vest).
Laakso, Johanna
Finnougrisch-slawische Kontakte in der Vorgeschichte und Geschichte Russlands (The Slavicization of the Russian North: Mechanisms and chronology. Ed. by Juhani Nuorluoto).
Salminen, Tapani
Genuine and confused information about Central Siberian languages (Languages and prehistory of Central Siberia. Ed. by Edward J. Vajda).
Leinonen, Marja
Crisscross around the world (Bernhard Wälchli: Co-compounds and natural coordination).
Saarinen, Sirkka
Das Ostseefinnische in die Atlanten! (Atlas Linguarum Fennicarum (ALFE). Itämerensuomalainen kielikartasto, osa I. Päätoim. Tuomo Tuomi).
Bartens, Hans-Hermann
Ein neues Standardwerk zur saamischen Lexikologie (Pekka Sammallahti & Klaus Peter Nickel: Sámi-duiskka sátnegirji = Saamisch-Deutsches Wörterbuch).
Laakso, Johanna
Eine Ära geht zu Ende (Karjalan kielen sanakirja 1–6. Päätoim. Pertti Virtaranta & Raija Koponen).
Kulonen, Ulla-Maija
Ungarische Sprachgeschichte für Studenten und Fachleute (Magyar nyelvtörténet. Szerkesztette Kiss Jenő & Pusztai Ferenc).
Riese, Timothy
Ein neues Lehrbuch des Mansischen (
Е. К. Скрибник & К. В. Афанасьева: Практический курс мансийского языка
).
Csúcs, Sandor
Ein neuer Beitrag zur permischen Lautgeschichte (Michael Geisler: Vokal-Null-Alternation, Synkope und Akzent in den permischen Sprachen).
Salminen, Tapani
An old Selkup wordlist made into a modern Selkup dictionary (Nordselkupisches Wörterbuch von F. G. Mal'cev).
Leisiö, Larisa
&
Salminen, Tapani
A chrestomathy of the Nganasan language (Chrestomathia Nganasanica. Szerkesztette Wagner-Nagy Beáta).
Hasselblatt, Cornelius
Ein längst fälliges Handbuch (Johanna Laakso: Our otherness. Finno-Ugrian approaches to Women's Studies, or vice versa).
Saarinen, Sirkka
Alles über die Saamen und das Saamentum? (The Saami. A cultural encyclopaedia. Ed. by Ulla-Maija Kulonen, Irja Seurujärvi-Kari & Risto Pulkkinen).
Lukin, Karina
Musikalische, textuelle und lokale Interpretationen der nördlichen Schicksalslieder (Jarkko Niemi & Anastasia Lapsui: Network of songs. Individual songs of the Ob' Gulf Nenets: Music and local history as sung by Maria Maksimovna Lapsui).
Saarinen, Sirkka
Die Mythologien der nördlichen finnisch-ugrischen Völker (Komi mythology. Encyclopaedia of Uralic mythologies I. Ed. by Vladimir Napolskikh, Anna-Leena Siikala & Mihály Hoppál;
Мифология манси
;
Мифология хантов
).
Bartens, Hans-Hermann
Ein Textbuch zu den Glaubensvorstellungen der Komi (
П. Ф. Лимеров
:
Сотворние мира
) .
Ruotsala, Helena
Ein gutes Kulturlexikon über die materielle Kultur der Mari, Mordwinen und Udmurten (Marit, mordvalaiset ja udmurtit. Perinteisen kulttuurin tietosanakirja. Toim. Ildikó Lehtinen).
Lehtinen, Ildikó
Une analyse brillante sur le vêtement lapon (Yves Delaporte: Le vêtement lapon. Formes, fonctions, évolution)
* Kurzrezensionen: Kulonen, Ulla-Maija
(Kaisa Häkkinen: Nykysuomen etymologinen sanakirja).
Laakso, Johanna
(Birger Winsa (ed.): Finno-Ugric people in the Nordic countries. ROOTS V: The roots of peoples and languages of Northern Eurasia).
Laakso, Johanna
(Greg Watson & Pekka Hirvonen (eds.): Finno-Ugric language contacts).
Skribnik, Elena
(Gregory D. S. Anderson: Language contact in South Central Siberia).
Kallio, Petri
(Johnny Cheung: Studies in the historical development of the Ossetic vocalism).
Laakso, Johanna
(Uwe Hinrichs (Hg.): Die europäischen Sprachen auf dem Wege zum analytischen Sprachtyp).
Aikio, Ante
(Asbjørg Skåden, Ardis Ronte Eriksen & Marit Einejord (eds.): Just Qvigstads lappiske ordbok fra Ibestad, Lenvik og Ofoten – bearbeidet versjon).
Aikio, Ante
(Jurij Kusmenko (ed.): The Sámi and the Scandinavians: Aspects of 2000 years of contact).
Laakso, Johanna
(Leif Rantala (red.): Dokument om de ryska samerna och Kolahalvön).
Laakso, Johanna
(Berthold Forssman: Wörterbuch Estnisch-Deutsch = Eesti-saksa sõnaraamat).
Suutari, Toni
(Heli Laanekask: Eesti kirjakeele kujunemine ja kujundamine 16.–19. sajandil).
Laakso, Johanna
(Christopher Moseley: Livonian).
Häkkinen, Kaisa
(Dennis Estill: Diachronic change in Erzya word stress).
Savela, Janne
(Ilse Lehiste, Niina Aasmäe, Einar Meister, Karl Pajusalu, Pire Teras & Tiit-Rein Viitso: Erzya Prosody).
Alhoniemi, Alho
(Aleksandr Feoktistov & Sirkka Saarinen: Mokšamordvan murteet).
Alhoniemi, Alho
(Aleksandr Feoktistov & Sirkka Saarinen: Mokšamordvan murteet).
Alhoniemi, Alho
(О. П. Воронцова & И. С. Галкин: Топонимика Республики Марий Эл (историко-этимологический анализ)).
Wagner-Nagy, Beáta
(Erika Körtvély: Verb conjugation in Tundra Nenets).
Palviainen, Santeri
(Manfred Mayrhofer: Die Hauptprobleme der indogermanischen Lautlehre seit Bechtel).
Sutter, Regula
(Jorma Luutonen, Sirkka Saarinen, Arto Moisio, Oleg Sergeyev & Lidiya Matrosova: Reverse dictionary of Mari (Cheremis) = Обратный словарь марийского языка).
Saarinen, Sirkka
(Jorma Luutonen, Mikhail Mosin & Valentina Shchankina: Reverse dictionary of Mordvin = Обратный словарь мордовских языков).
Kokkonen, Paula
(Komi rahvaluulet = Коми фольклор = Komi folklore. Kogunud/Чукöртiс/Собрал/Collected by P. Ariste/П. Аристэ).
Laakso, Johanna
(Ronald O. Richards: The Pannonian Slavic dialect of the Common Slavic proto-language: The view from Old Hungarian).
Kahla, Martti
(Jan Baudouin de Courtenay i Jooseppi J. Mikkola: korespondencja z lat 1898–1926. Wydał Raimo Pullat).
Siegl, Florian
(Annette Leo: Leben als Balance-Akt: Wolfgang Steinitz – Kommunist, Jude, Wissenschaftler).
Eiras, Vuokko
(Wolfgang Steinitz: Ich hatte unwahrscheinliches Glück. Ein Leben zwischen Wissenschaft und Politik).
Lehtinen, Ildikó
(Mária Sipos (Hg.): Jelentések Szibériából).
Lukin, Karina
(Florian Stammler: Reindeer nomads meet the market. Culture, property and globalisation at the
'
End of the land
'
).
* Berichte und Nekrologe Saarinen, Sirkka
Juri Anduganov 1949–2005.
Häkkinen, Kaisa
Mauno Koski 1930–2005.
Sauer, Gert
Rosemarie Radomski 1930–2006.
* Diskussion Suutari, Toni
: Berichtigung.