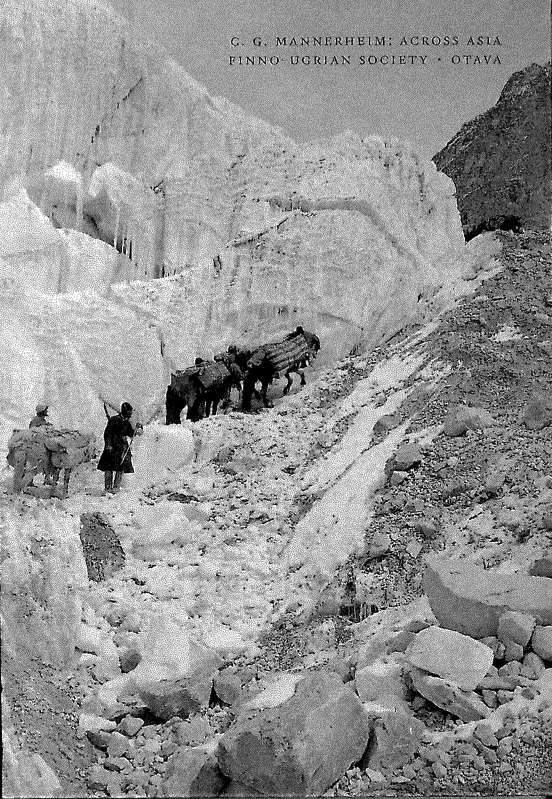 Nimeke
Across Asia from West to East in 1906–1908
Aihe
Across Asia from West to East in 1906–1908.
Kansatieteellisiä julkaisuja 18.
2008. 821 s. + kartta. (ISBN 978-951-1-21284-3 hb.) 73 € (jäsenet 58 €).
Kuvaus
One hundred years ago, the Finnish military and political leader Gustaf Mannerheim, as an officer in the Russian army who had recently returned from the Russo-Japanese war, made a legendary reconnaissance and research expedition across Asia to Peking. The journey, largely conducted on horseback, lasted two years. The goal of the expedition was, in addition to conducting ethnographic and natural science research, to map marching routes from Russia to China, as well as to collect military intelligence about China.
Mannerheim embarked on the journey as a member of French scientist Paul Pelliot's expedition, but the men soon had a falling out and went their separate ways. Mannerheim kept a diary of the journey and described in detail his observations of geography, culture, economy and politics, as well as the difficulties of the expedition and his own disappointments.
Mannerheim's detailed travel diaries and accompanying photographs are a unique collection of materials for Asia researchers and at the same time an exciting survival story for any reader. The diary appeared for the first time in 1940. This revised contains previously unpublished information, e.g. previously unpublished pictures selected from the more than 1200 photographs taken by Mannerheim over the course of this epic journey.
The (shortened) Finnish language edition
Ratsain halki Aasian 1906–1908
was published in November 2007 (Otava Publishing Company).
Tekijä
C. G. Mannerheim; Edward Birse (transl.); Harry Halén (revised)
Julkaisija
Suomalais-Ugrilainen Seura