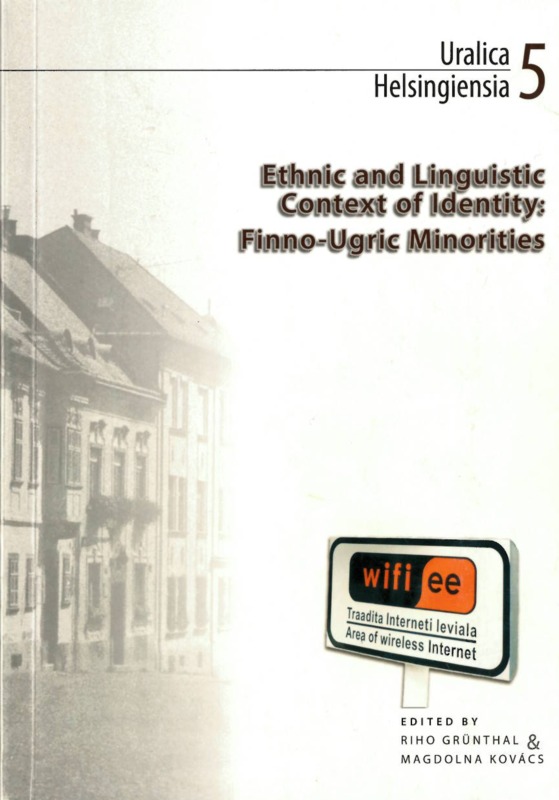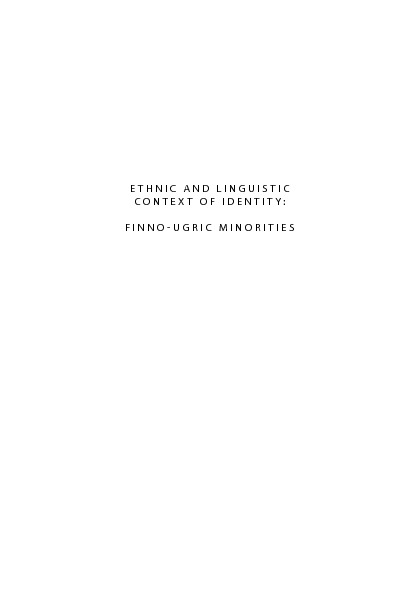 Nimeke
Ethnic and Linguistic Context of Identity: Finno-Ugric Minorities
Aihe
Ethnic and Linguistic Context of Identity: Finno-Ugric Minorities. Uralica Helsingiensia 5. 406 p. (ISBN 978-952-5667-28-8) 20 €.
Kuvaus
Ethnic and Linguistic Context of Identity: Finno-Ugric Minorities focuses on the language and language identity of individual speakers and communities among the Finno-Ugric minorities, living today in a world in which borders can easily be crossed. Social, economic and political changes that have affected language communities also affect the domains in which a given language is used. The Finno-Ugric minorities have different histories, their political and economic circumstances are far from uniform, and they also differ from the majority language groups in many ways. Every language community has its own special characteristics that illustrate the fate of language minorities in more general terms.
Articles

Riho Grünthal & Magdolna Kovács: Introduction.
Johanna Laakso: Being Finno-Ugrian, Being in the Minority – Reflections on Linguistic and Other Criteria.
Irja Seurujärvi-Kari: "We Took Our Language Back" – The Formation of a Sámi Identity within the Sámi Movement and the Role of the Sámi Language from the 1960s until 2008.
Elisabeth Scheller: The Sámi Language Situation in Russia.
Vilmos Tánczos: The Moldavian Csángós – Questions of Demography and Linguistic Assimilation.
Magdolna Kovács: Ethnic and linguistic identities of Hungarians and their descendants in Finland.
Boglárka Straszer: Language and Identity among Hungarians in Sweden.
Raimo Raag: I'm Estonian – What Is Your Excuse? – Ethnic and Linguistic Aspects of the Identity of Estonians in Sweden.
Kristiina Praakli: The New Estonian Community in Finland.
Kadri Koreinik: Language Ideologies and Identity-building in the Public Discourse of South Estonian.
Riho Grünthal: Population decline and the Erosion of the Veps Language Community.
Larisa Shirobokova: Ethnic Identity and Udmurt people.
Outi Tánczos: Identity Construction in an Udmurt Daily Newspaper.
Márta Csepregi & Sofia Onina: Observations of Khanty Identity: the Synya and Surgut Khanty.
Zoltán Nagy: The Invisible "Ostyaks": The Khanty people in the Tomsk Oblast.
Sándor Szeverényi & Beáta Wagner-Nagy: Visiting the Nganasans in Ust-Avam.
Tekijä
Riho Grünthal & Magdolna Kovács (eds)